Exposición:
Toni Camarasa. Iron, corks and canvas December - January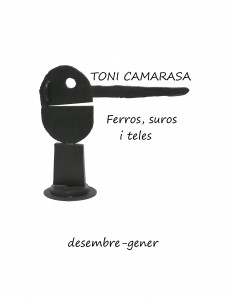 Monographic exhibiton dedicated to the contemporary artist Antoni Camarasa (Santa Linya, La Noguera 1957).
In this showing you can see the artistic work of the last years of the artist with paintings and sculptures related to primitive style where the irony and the satire have an important role.
Camarasa, Toni

Lo padrí, 2014

different materials/wood

81×116 cm

Camarasa, Toni

Tarzán de los monos, 2001

different materials/wood

135×83 cm

Camarasa, Toni

Tot un valent

Iron, polyester, aluminium and wood

52x32x18,5 cm

Camarasa, Toni

Mi mamá me mima, 2007

Mixed media/canvas

89×130 cm

Camarasa, Toni

Lo milloret de cada casa, 2001

Different materials/wood

50×96 cm

Camarasa, Toni

Dos galls al corral? 2005

Mixed media/wood

65×92 cm

Camarasa, Toni

Encanteri, 2005

Differents materials/wood

40×55 cm

Camarasa, Toni

L'home dels nassos

Iron

50×56 cm

Camarasa, Toni

La vida és així, 2005

Mixed media/canvas

116×81 cm

Camarasa, Toni

Un sol núvol, 2011

Oil/canvas

81×116 cm

Camarasa, Toni

Thief

Iron

15x18x8 cm

Camarasa, Toni

Malabarista de Sabadell, 2001

different materials/wood

40×54 cm

Camarasa, Toni

Pubill, 2007

Mixed media/canvas

89×130 cm

Camarasa, Toni

Dervish

Iron

20x20x20 cm
Listado de exposiciones: