Fair: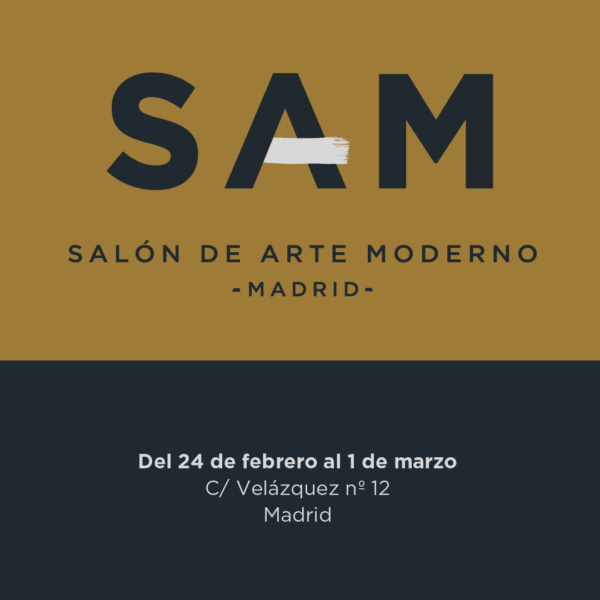 SAM 2020 - 24 February - 01 March 2020
Ubicación:
Calle de Velázquez, 12, 28001 Madrid, España
---
SAM (Salón de Arte Moderno) will be held its second edition from monday 24th February to Sunday 1st March 2020, in Velázquez 12 street in Madrid, during the Madrid Art Week
SAM it's the only european art fair specialized in avantgarde and modern art. The careful selection of 10 exhibitors makes possible to exhibit artworks that we could find in museums, artworks by art masters like Pierre-Auguste Renoir, Pablo Picasso, Salvador Dalí, Henri Matisse, Alexander Calder, Victor Vasarely, Alberto Giacometti, Tamara de Lempicka, Joan Miró, Eduardo Chillida, Antoni Tàpies, Miquel Barceló, Antoni Clavé, Pablo Palazuelo, Antonio Saura, Manolo Valdés and Jaume Plensa, among others.
In every edition the art fair honors alive artists that are important to the Art History. If the last year it was dedicated to Fernando Farreras (Barcelona 1927), SAM 2020 will be dedicate to Luis Feito (Madrid 1929), with a big retrospective of his work, from fifties until now.
After the great success of public, critics and sales that reached the first edition of SAM, the art fair returns to Madrid Art Week with a fantastic selection of artworks from the avantgarde period and Modern Art. It's an especial opportunity for art lovers and art collectors to see and purchase wonderful artworks that belong to the Art History.